Milton Keynes Clearance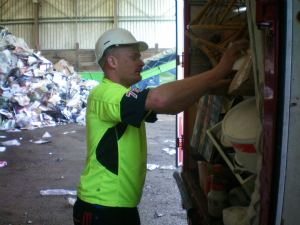 Get that space cleared quickly without costing the earth, home, garden, business or industrial estate.
We have the big yellow pick up dirty jobs and lovely blue furniture vans for dignified clearances.
Everything we clear is recycled if at all possible. Wood, metal, paper, card, textiles, most materials are recyclable these days.
If you would like a quotation I can give you a general idea on the phone or e-mail, followed by a no obligation fixed quote in person generally prices come out on par with hiring a skip.
For more details on our clearance service please call us on 01908 866 812 or email us for with your requirements for a no-obligation quotation.
Brendans Transport are fully licensed waste carriers and are monitored by the Environment Agency so you can be assured that your goods will be taken care of in a legal and environmentally responsible manner.